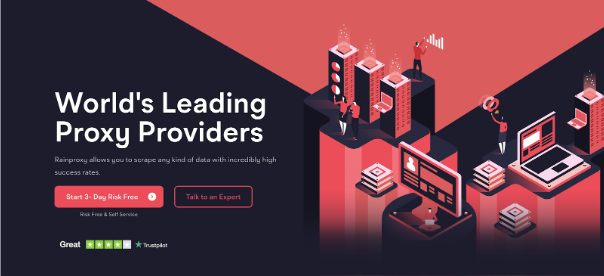 Rainproxy
RainProxy has been in the proxy business for over 4 years. Rainproxy was founded in 2018 with the objective of serving as the gateway for organizations all around the world to access data. We are focusing on innovation and building strong ties with our customers. When selecting a provider, it is critical to select one that has been in business for a long time to assure stability and trust. We can assure it at Rainproxy.
We named our service Rainproxy because we believe data should be as transparent as a rain droplet. This is absolutely achievable using Rainproxy!
Products we offer
Residential Rotating proxies Starting at $3.00/GB Capsolver Community: $2.40/GB
Static Residential proxies Starting at $10.00/GB Capsolver Community: $8.00/GB
Datacenter Rotating proxies Starting at $2.50/GB Capsolver Community: $2.00/GB
Mobile Rotating Proxies Starting at $11.95/GB Capsolver Community: $9,56/GB
We can supply you with a free trial in minutes, thanks to our support team who are available 24/7 to ensure our clients satisfaction so that our clients do not have to wait any longer. Simply contact our live chat
support to claim (won't take more than a few minutes).
Features
24/7 Customer Support
Rotating & Sticky option
99.8% Success rate
Automated Self-Checkout & No commitment, start instantly.
Money back guaranteed.

Residential Rotating proxies
Residential proxies from Rainproxy are a popular offering. With 58 million IPs worldwide of 100% genuine and ethically sourced residential IPs, you can now say bye to captcha and other similar things such as being rate limited.
When looking for residential proxies, you want a service who is transparent and gives a large number of IPs as well as a clean pool, which we promise. We provide a three-day money-back guarantee if you haven't utilized more than 20% of your package, allowing you to test out our service risk-free.
Features
Rotating on each request feature.
Sticky proxy feature. Keep the IP for up to 20 minutes.
City & State target worldwide.
Static Residential Proxies
Our static residential proxies are designed for people who need fast proxies and people who need a proxy where the IP address does not change, such as when managing accounts.
We provide a pool of 1M+ IPs from ISPs and carriers around the world to ensure consistent quality.
Features
Since our ISP proxies are working with one hop ISP method, this way we can ensure the fastest speed.
Static & Rotating per request feature.
City & State target.
The IP will remain permanently the same.
Datacenter Rotating proxies
Datacenter proxies are meant for people who want to get the most out of their proxies but have a limited budget. Datacenter proxies are recommended for low-scale operations. Our datacenter proxies are, fast, budget friendly & ethically sourced.
Datacenter are the best option for low scale tasks and are cheap. Currently Rainproxy offers a pool of around 200k+ IPs.
Features
Rotating per request & sticky feature.
Budget friendly.
Huge IP pool
Mobile Rotating proxies
Mobile proxies are IP addresses that are used to mask a users location and are typically connected through a mobile network. They're commonly used for data extraction purposes, such as when you need to collect data from multiple sources, or when you want to reduce detection from websites that are restricting access from the same IP address.
We're currently having 100k+ premium mobile proxies available.
Features
Top tier Mobile ISP Carriers.
Rotating per request & sticky access.
Populair Use Cases
Brand protection
Protect your brand by monitoring it with proxies.

Competitor Intelligence
Crawl in real time real pricings of shopping sites for competitors pricing without getting blocked.

Ad Verification
Don't be deceived by what you see. Residentisl IPs allow you to see how a real person sees it in real time. Prevent fraud.

Crawl & Index
A site may restrict you by crawling to few requests a minute. While they have millions of pages.

Geo Restrictions
Geo-blocking restrictions are discriminating against everyone.

Avoid Tracking
Undemocratic countries want to suppress access.

Posting Ads
Sites like Craigslist may prevent accounts from posting multiple advertisements.

Stock Market Data
Get access to the latest stock market information at scale.
START NOW!
20% OFF with the coupon code "CAPSOLVER"