Introduction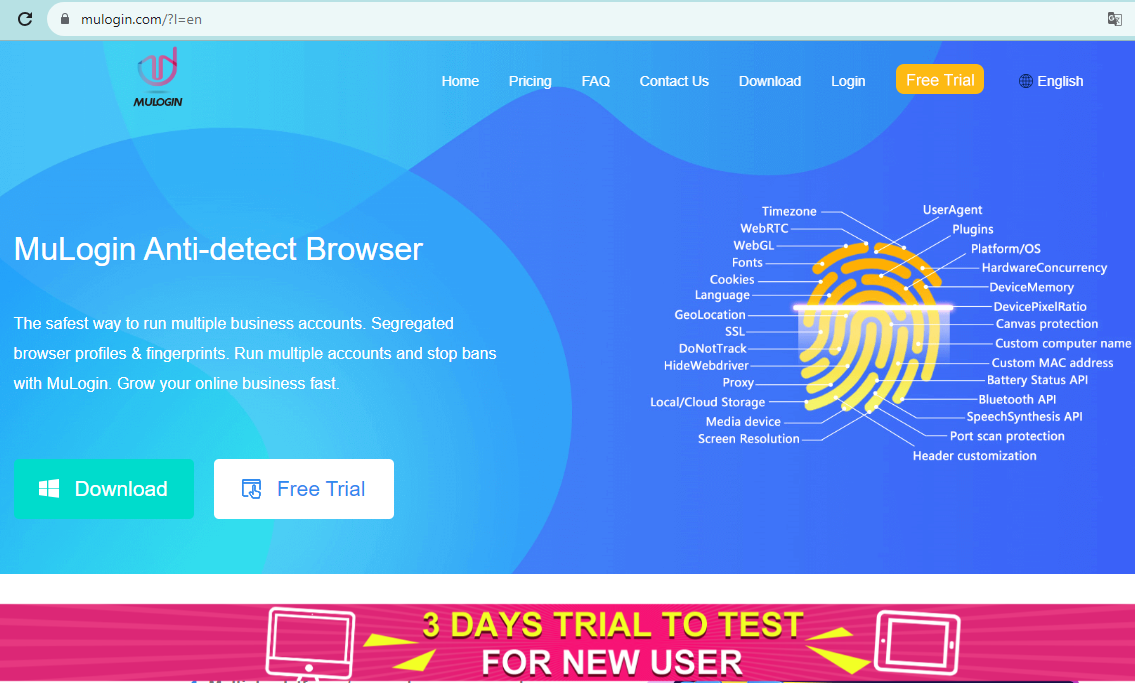 MuLogin Anti-detect Browser (Three-Day Free Trial for New Users) is a multi-login anti-detect fingerprint browser. Securely login and manage multiple accounts on multiple platforms with separate fingerprinting environments, preventing simultaneous logins from being associated with each other, securely, efficiently, and quickly growing your online business.
MuLogin Anti-Detection Browser facilitates users to log in and manage multiple cross-border e-commerce platforms, social media, advertising, and marketing accounts at the same time through virtual browser technology. The data is well protected, and the real user remains anonymous, MuLogin allows websites to read "masked fingerprints" that are different from your real fingerprints, replacing the old method of preventing websites from reading any fingerprints.
Each browser profile created in MuLogin has its own unique digital fingerprint. Browser profiles are completely isolated from each other and cannot leak information to each other, so websites will not be able to detect that multiple accounts are from the same device. It also supports teamwork and sharing of profiles with each other.
Core Features
Multiple platforms/accounts management
By using virtual browser technology, MuLogin helps users log in and manage multiple cross-border e-commerce platforms/social media/advertising and marketing accounts at the same time. Safe, fast, and convenient, unrestricted access.
Separated browser environment
By using MuLogin, users can create multiple unique fingerprint browsers. Each browser's fingerprint environment, cookies, local storage, and other cache files will be completely isolated, and the browser profiles cannot leak information to each other, so as to achieve multi-account secure login without being detected.
Browser fingerprint protection
MuLogin approaches browser fingerprinting in a completely native way. Instead of trying to prevent websites from reading your computer's fingerprint, MuLogin allows reading it but replaces your original fingerprint with a different one.
Simple browser automation
Any repetitive work can be done through MuLogin automation. You can implement the MuLogin automation function through a series of Local API, or Selenium and Puppeteer for Mimic.
Teamwork/Efficient work
The admin account can manage multiple sub-accounts, and each sub-account operates independently. Users can easily control the permissions of team members to access browser profiles through the share or transfer profile functions. You can let the first administrator create an account, and then easily share these browser profiles to other employees or transfer them to your customers. The data is synchronized to the cloud in real time. All operations can be completed in the same environment. Any risks and troubles can be avoided, work efficiency can be improved effectively.
Professional technical support
7x12 hours, 1v1 customer service
Support remote assistance guidance.
Package Pricing
Contact MuLogin official customer service to request a 3-day free trial. After the free trial, you can choose any of the following pricing packages:
Personal Package:
Save up to 100 browser profiles; 1 sub-accounts included.
$59 per month, $165 quarterly for three months, $301 semi-annually for six months, $531 annually for twelve months.
Solo Package:
Save up to 200 browser profiles; 5 sub-accounts included.
$99 per month, $276 quarterly for three months, $505 semi-annually for six months, $891 annually for twelve months.
Team Package:
Save up to 500 browser profiles; 10 sub-accounts included.
$209 per month, $583 quarterly for three months, $1,066 semi-annually for six months, $1,881 annually for 12 months.
Scale Package:
Save up to 3000 browser profiles; 20 sub-accounts included.
$499 per month, $1,392 quarterly for three months, $2,545 semi-annually for six months, $4,491 annually for twelve months.
Customization Package:
Save more browser profiles; Create more sub-accounts.
Exclusive Customization, and custom pricing.
All Plans Support:
Browser profile and data cloud synchronization
Continuously updated browser fingerprint library
Batch import/export cookies and proxy information
Simulate manual input, adjustable input speed
Customize the latitude and longitude according to the IP address
Support media device fingerprint and SSL fingerprint settings
Support mobile emulation mode to start mobile browser
Support self-configured proxy IP, support IPv6
Customize leak-proof computer name and MAC address
Customize launch browser parameters and browser plug-in fingerprint
Customize device battery charge percentage and Bluetooth API fingerprint, etc.
Customize SpeechSynthesis API and Header
Use Cases
Affiliate Marketing
Diversify risks by running ad campaigns through multiple ad accounts.
Brand Protection
Check regionally blocked resources for monitoring illegal use of your brand.
Ad Spy
Reverse-engineer original ad campaign targeting by analyzing which ads are served to which social media profiles.
E-commerce
Establish multiple isolated merchant accounts on e-commerce platforms to increase revenue and reduce online retail risks.
Ad Verification
Verify AD targeting and placement by emulating viewers with different devices and different geo-locations. Remove misleading creatives and broken links.
Self-testing
Run Selenium tests in LIVE environment to see how your website performs with all traffic analytics and filtering systems setups. See how content is served based on visitor specifics.
Web Crawler
Replace your device lab or virtual machines with less resource-intensive virtual browser profiles. Provide a ready-made fingerprint browser call interface, can be readily developed using.
Retail Price Comparison
Retailers price their products algorithmically based on visitor's geo-location, device, and browsing history. See prices through the eyes of a real visitor without being blocked or deceived.
Social Media Marketing
Use MuLogin to create and manage a number of browser profiles, login and manage multiple social media accounts at the same time, set up the access permissions for each team member, avoid the risk of accounts being banned due to differences in devices, environments, and other factors, thereby effectively ensuring the security of the account, improving the team efficiency.
For More Details Please Visit MuLogin Official Website!
https://www.mulogin.com/