IPRoyal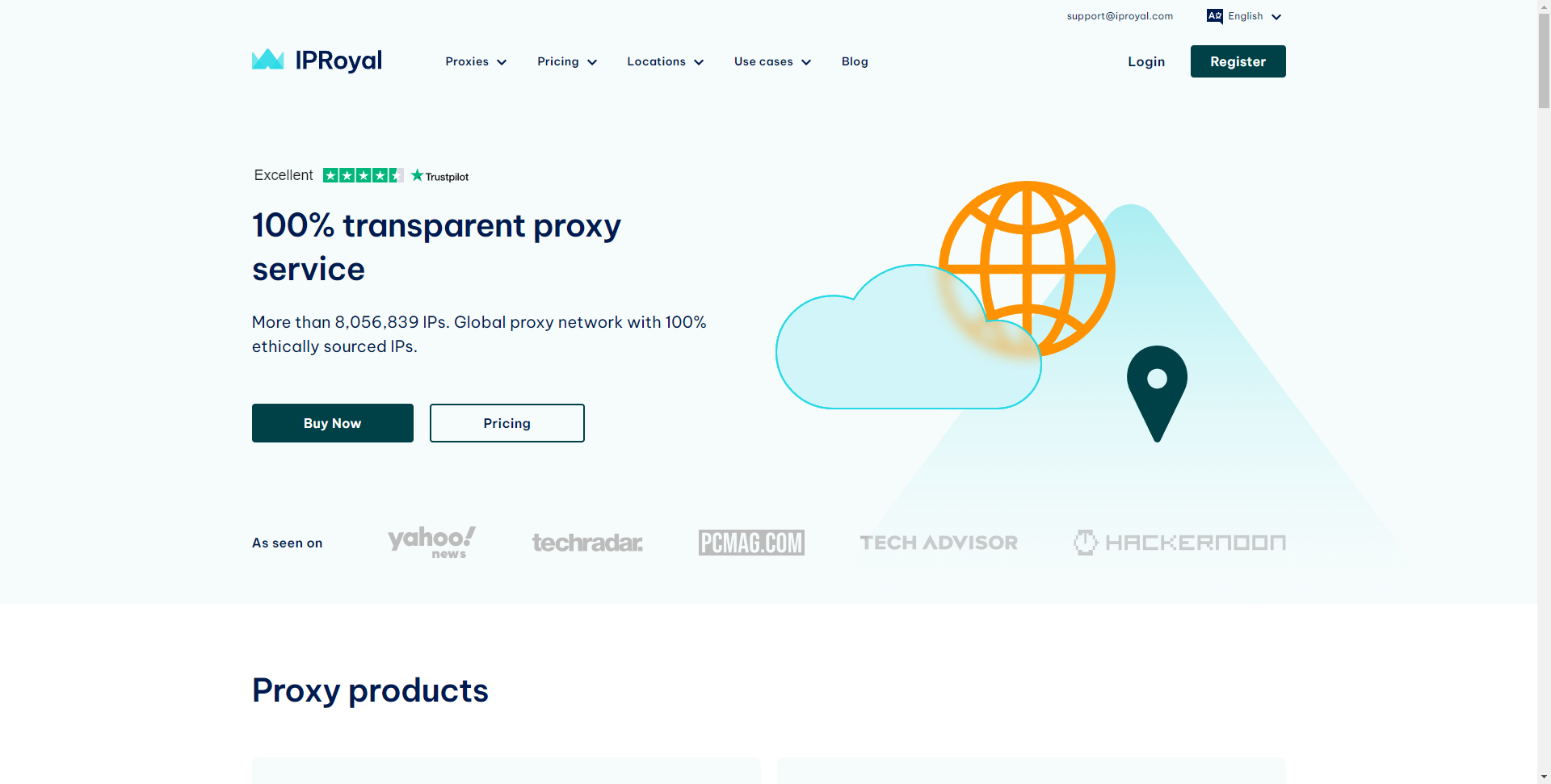 In just a few years, IPRoyal has made a strong reputation by offering a wide selection of proxies at great prices. All proxies are fast, reliable, and ethically sourced. This makes them an ideal choice for all sorts of tasks, from web scraping and SEO to social media management, streaming, gaming, and more.
All of IPRoyal's services are priced very competitively. On top of that, you can get great bulk discounts. Buying a larger amount of rotating residential traffic or any other proxy for a longer period gets the starting price down significantly.
Rotating Residential Proxies
Non-expiring traffic
Over 2 million IPs in 195 countries
Country, state, and city-level targeting
Customizable session duration (from 1 second to 7 days)
HTTP/HTTPS and SOCKS5 support
Datacenter Proxies
Fastest speeds in the industry
No sharing
Unlimited traffic
Quick and easy integration
HTTP/HTTPS and SOCKS5 support
Static Residential Proxies
Sourced from premium ISPs
No sharing
Unlimited traffic
Daily plan available
HTTP/HTTPS and SOCKS5 support
Mobile Proxies
Over a million genuine mobile IPs
Unlimited traffic
Instant IP rotation
API support
Daily plan available
Sneaker Proxies
Private pool with unique IP addresses
Dedicated proxies with zero sharing
Compatible with most bots and retailers
Daily plan available
Unlimited traffic and sessions
Conclusion
No matter how you plan to use proxies, IPRoyal has a perfect solution. The website is easy to use, all orders are confirmed automatically, and the support team is available 24/7. If you're looking for a premium service with a fantastic price/value ratio, IPRoyal is where it's at.
Proxyscrape
Introduction
Proxyscrape is a leading proxy service provider that offers a wide range of proxy solutions. Whether you are a developer, a marketer, or someone who needs to scrape websites without limitations, Proxyscrape has got you covered.
What Does Proxyscrape Offer?
Scrape Websites Without Limits
Up to 50,000 Datacenter Proxies
HTTP and Socks4/5 Protocol Supported
99% Uptime Guarantee
Unlimited Concurrent Connections
Types of Proxies
Residential Proxies
10M+ Back-Connect Rotating IP Addresses Worldwide
HTTP and HTTPS Protocols
99% Success Rate and 2-Second Response Time
Ethically Sourced with 24/7 Uptime Monitoring
Premium Proxies
Over 50,000 Proxies with a 99% Success Rate
Unlimited Bandwidth and Concurrent Connections
Advanced Features like 3 IP Authentication Slots and API Integration
Dedicated Proxies
Private IP Addresses
Unlimited Bandwidth and Concurrent Connections
Speeds up to 1Gbps
IP Authentication and API Integration
Why Choose Proxyscrape?
Speed & Reliability
Proxyscrape claims to offer the most reliable proxy services in the industry with optimized performance.
Flexible & Secure
Offers secure access to a large pool of datacenter and residential proxies with unlimited bandwidth and connections.
Ethical Practices
They are committed to ethical sourcing and data privacy.
Quality & Performance
They guarantee a 99% uptime and high-quality service.
Additional Features
24/7 Customer Support
ProxyScrape API for Automation
Free Proxy List
Conclusion
Proxyscrape offers a comprehensive range of proxy services that cater to various needs. With its focus on speed, reliability, and ethical practices, it stands out as a top choice for anyone in need of proxy services.
Ping Proxies

Introduction
Ping Proxies claims to be the world's most advanced proxy network, offering a variety of proxy solutions tailored to meet all your Static ISP, Residential, and Datacenter proxy needs.
Key Features
Extensive Proxy Network
115+ Million Proxy Network
75,000+ Datacenter Proxies
350+ Static ISP Subnets
15 Billion+ Monthly Requests
150+ Global Access Nodes
Global IPs
Ping Proxies has IPs in over 150 countries and 1500+ cities, allowing dynamic orders for global website access.
Anti-Bot Measures
Years of development have enabled Ping Proxies to specialize in avoiding automated-traffic restrictions and bans from services like Akamai, Cloudflare, Google Captcha, and more.
Ultra-Fast Speed
The service works with Tier-1 networks in prime locations like Ashburn, VA USA, London, and New York to provide unbeatable datacenter and residential speeds.
Reliability
99.9% Uptime Guarantee
Three years of impressive uptime of 99.98%
Instant Delivery
All orders are dispatched through an instant automated delivery system, allowing for easy proxy management.
24/7 Support
Technical and sales support is available 24/7 via email and Discord.
Product Plans
Datacenter Plans
Perfect for Scalping, Sneaker Purchasing, Account Management, Web Scraping, Social Media & SERP.
Captcha Proxies
Unbanned on Google, reCAPTCHA & More
Datacenter Network
Unlimited Bandwidth
Dedicated IP Address
Residential Plans
115M+ IP Pool
City Geolocation
Mobile IPs Included
Unlimited IPs / Threads
Conclusion
Ping Proxies offers a comprehensive set of features that make it a strong contender in the proxy service market. With its focus on speed, reliability, and extensive network, it is a service worth considering for your proxy needs.
RushProxy

RushProxy is the leading proxy provider offering blazing fast proxies at a fraction of the cost since 2022. With a newly designed dashboard, RushProxy aims to provide high-speed proxy servers that allow users to bypass geographical restrictions and securely browse the internet without leaving any trace of online activity.
Why Choose RushProxy?
Lightning-Fast Speeds: Experience ultimate speed and performance with high-speed proxy servers. Say goodbye to buffering and slow proxies.
Unlock the Internet: Bypass online restrictions and access any website with advanced proxy technology.
Complete Self-Service Dashboard: An extensive dashboard that gives complete freedom to users. Track usage statistics, manage subscriptions, and get easy integration snippets.
Zero-Logs Policy: A strict policy to protect your privacy. No storage of online activity on servers, ensuring complete anonymity.
Clear Pricing, No Hidden Costs: Transparent and simple pricing with no hidden costs.
Premium Residential Proxies: Starting at $3.10/GB with 11,000,000+ IPs, unlimited concurrent connections, rotating & sticky proxies, and HTTP(s) / SOCKS5 support.
Datacenter Proxies: Starting at $10/day with rotating per request, US datacenter proxies, unlimited bandwidth, and unlimited concurrent connections.
Residential Proxies: Starting at $2.99/GB with 38,000,000+ IPs, rotating or static options, worldwide locations, unlimited threads, and HTTP/s & SOCKS5 support.
Frequently Asked Questions
RushProxy provides answers to common questions such as:
What is a proxy?
How to contact them?
What payment methods are accepted?
Do they log anything?
Conclusion
RushProxy is committed to offering fast and reliable proxy services at an affordable cost. With a focus on user experience, privacy, and transparency, they provide various proxy options to suit different needs. Whether you're looking for residential or datacenter proxies, RushProxy has the right solution for you.
Create an Account or Log In to get started with RushProxy.
MetaProxies

MetaProxies is offering a limited-time offer for country-targeted residential proxies, with prices as low as $3/GB. With over 92 million IPs across 220+ countries, MetaProxies provides unlimited traffic, private P2P networks, and flexible plans.
Types of Proxies
Dynamic Residential: For ever-changing IP needs.
Premium Residential: High-quality residential proxies.
Static Proxy: Fixed IP addresses.
IPV6 Proxy: Suitable for all websites and programs that support IPv6.
Mobile Proxy: For mobile-specific needs.
How Companies Use MetaProxies
Price Monitoring: Track competitors' pricing.
Ad Verification: Verify the appearance of ads.
SEO Monitoring: Monitor search engine performance.
Data Collection: Gather essential data.
Market Research: Conduct in-depth market studies.
Brand Protection: Safeguard your brand's reputation.
E-commerce Growth: Enhance online sales.
Web Testing: Test website functionality.
Stock Market Data: Access real-time stock information.
Travel Aggregation: Aggregate travel-related data.
Avoid Tracking: Stay anonymous online.
Why Choose MetaProxies?
Giant and Growing Proxy Pool: 92M+ global residential proxies, constantly expanding.
Reseller API Supported: Start your own proxy brand with Meta's powerful APIs.
One-Stop Proxy Service: Covering almost all market needs with flexible pricing.
24/7 Technical Support: Dedicated account manager and full technical team support.
Global Coverage: Extensive IP coverage in countries like the United States, Brazil, Canada, Mexico, the United Kingdom, France, Japan, South Korea, Spain, Russia, India, and Australia.
Client Testimonials
Andrew Pitt: "MetaProxies helps our company keep our brand's IP safe and gather & research market data easily."
Karl K.: "Thanks to Meta's powerful resell API support, it helps our team easily build a brand new proxies website."
Haochuan Yeung: "MetaProxies help us build great experience on customer feedback. Flexible pricing makes costs more controllable."
Ivan Medvedev: "Compared with other proxy suppliers, Meta provides us better prices & more professional services."
Conclusion
MetaProxies is a market-leading IPv4/IPv6 proxy service that offers a comprehensive set of solutions for various business needs. With a focus on growth and efficiency, MetaProxies ensures quality service and support. Whether you're looking to protect your brand, monitor SEO, or gather market data, MetaProxies has the tools to make it happen.
Sign Up Free or Contact Sales for more information.
Asocks

Asocks offers the most stable residential proxies at $3 per GB, allowing users to avoid blocks and bypass any restrictions. With a vast network of IPs across popular countries like Russia, India, Iran, Brazil, and the United States, Asocks is a go-to solution for various proxy needs.
Residential Proxies
Asocks provides over 7 million IP addresses, offering maximum anonymity online. Forget about bans and blocks with targeted ASN and customizable proxy rotation settings.
Mobile LTE Proxies
They offer mobile IP addresses from mobile internet providers worldwide, including real mobile devices and 4G/LTE mobile IPs. With a 97% success rate in connections, Asocks ensures one price for both mobile and residential proxies.
Premium Proxies for Business
Asocks offers solutions for various business tasks, including:
Ad Verification: Check how users worldwide see your ads.
Price Comparison: Conduct marketing research.
Access to Restricted Content: Bypass restrictions.
E-Commerce: Enhance your online store.
Load Testing: Test your site's performance.
Social Media: Manage multiple accounts.
Finance: Secure your financial transactions.
Why Choose Asocks?
Customer-Centric Approach: They work hard to make the user experience comfortable.
High Connection Success: 97% successful connections with high response speed.
Custom Solutions: Regularly updated features tailored to your business.
24/7 Support: Round-the-clock technical support.
Growing Proxy Pool: Expanding GEO and adding more IP addresses daily.
Clean IPs: Own infrastructure with clean addresses to prevent bans.
Pay as You Use: Only pay for the traffic you use.
Conclusion
Asocks offers reliable residential and mobile proxies from over 150 countries. With a simple registration process and a free trial period, Asocks is committed to providing quality proxies for various applications. Their continuous growth and dedication to customer satisfaction make them a preferred choice for many businesses and individuals.
Contact Asocks for more information.
Ake.net

Ake.net offers the largest database of mobile, residential, and server proxies in one place. With over 9 million IPs and 838,000 TB of 24-hour traffic volume, Ake.net covers 188+ countries worldwide.
Why Choose Ake.net?
Price: They offer the lowest price for traffic. If you find a lower price, they promise to make a discount.
Quantity: A constantly updated and growing database of residential, mobile, and corporate proxies. More than 9 million IPs covering all countries.
Speed and Convenience: Whether you use proxy lists or create ports, Ake.net has the options for you.
Types of Proxies
Residential Proxies: 3M+ IPs in 195+ locations, HTTP(s) + SOCKS5 support, at $3/gb.
Mobile Proxies: 3M+ IPs in 195+ locations, HTTP(s) + SOCKS5 support, at $3/gb.
Datacenter Proxies: 3M+ IPs in 195+ locations, HTTP(s) + SOCKS5 support, at $3/gb.
Ideal for Various Uses
Affiliate Marketing: Safe for Facebook uploads without account bans.
Antidetect Browsers: Convenient ports for all antidetect browsers.
Surfing and Playing: Fast speed and ease of use for internet surfing.
Web Scraping: Built-in IP rotation to avoid CAPTCHA and IP blocking.
SMM Specialists: Lowest price for traffic with discount options.
Business and E-commerce: Analyze the market and