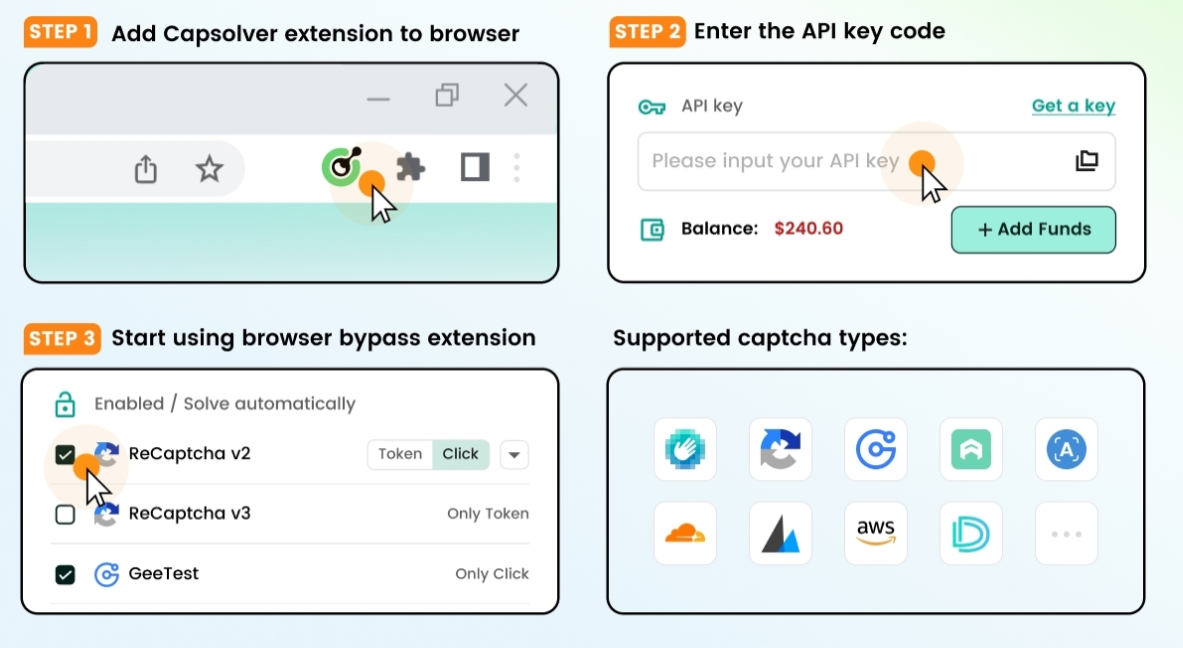 🤖 What is Capsolver?
Capsolver is an advanced captcha solving service that provides APIs and browser extensions to automate solving reCAPTCHA, hCaptcha, FunCaptcha, and many other captcha variants with ease.
The service can automatically decipher even very distorted or obscured captcha images and text thanks to deep learning algorithms and computer vision. This allows Capsolver to maintain accuracy rates exceeding 95% on even the most difficult captcha challenges.
Capsolver offers lightning-fast captcha solving, with average speeds under 5 seconds for most captcha types. The service has robust infrastructure to deliver reliable captcha bypassing 24/7 without downtime.
🤩 Capsolver's Chrome Extension Overview
To further simplify captcha automation for users, Capsolver provides an ingenious Chrome extension. It integrates seamlessly with any webpage and automatically solves captchas in the background without any user interaction required.
The extension utilizes the same advanced AI and computer vision algorithms as Capsolver's backend system to solve captchas behind the scenes. This provides effortless, transparent captcha automation as you browse any website.
💻 Installing the Capsolver Chrome Extension
Installing Capsolver's captcha solving Chrome extension takes just a few simple steps:
Go to the Chrome Web Store and search for "Capsolver" to find the extension or download here

Click "Add to Chrome" to install the extension.

A popup will display asking you to add the extension - click "Add Extension".

The extension will then be installed and added to your browser.

Click the extensions icon in your Chrome toolbar and pin the Capsolver extension for easy access.
And installation is complete! The extension will now work seamlessly in the background as you browse any websites with captcha challenges.
📕 How to Use the Capsolver Extension
Using the extension is very straightforward. Once installed:
Signup for an API key on the Capsolver website to enable the extension.

Copy your unique API key.

Click the Capsolver extension icon in your Chrome browser and paste your API key when prompted.
That's it! The extension will now automatically solve any captchas encountered without any additional input required from you. The solving happens seamlessly in the background.
🔖 Supported Captcha Types
Capsolver's Chrome extension can automatically solve an extensive range of common captcha types, including:
reCAPTCHA v2, reCaptcha v2 invisible and reCaptcha v2 enterprise
reCaptcha v3, reCaptcha v3 enterprise
hCaptcha
FunCAPTCHA
Cloudflare Turnstile
Image captchas
The extension leverages the same advanced technology as Capsolver's API to deliver reliable solutions across all major captcha variants. And support for additional captcha types is continually expanding.
💡 Conclusion
Capsolver's ingenious Chrome extension makes captcha automation completely seamless as you browse the web. Just install the extension, enter your API key, and any captchas you encounter will be automatically solved in the background without any user interaction required.
With its intelligent AI technology and constantly expanding support for major captcha types, Capsolver's Chrome extension is an invaluable tool for anyone needing hassle-free captcha bypassing on any website. Try out the extension and experience transparent, automated captcha solving first-hand!